It's looking like we are slowly but carefully reentering the real world after months of being safely tucked away at home. Have you been wearing jeans or sweatpants most of the days these past months? Or have you continued with your normal routine dressing as if you had somewhere to go?
Either way, you must at least be somewhat excited to break up your homebound routine. Fortunately it is summer, a really fun time to dress, both casually and more formally. Also fortunately for us, designers have created really fun clothing for this season where you can really have fun, if so inclined.
The first great style, which you may already own, is bold colors. If you are crazy about jewel tones but are afraid to wear them for fear of standing out, your worries are over. Bold colors from head to toe will garner you glances, but only because you will look so "au courant". If you love to play with color, this is your summer.
(Some of the clothes in this article are from a wonderful store in Atlanta, Ga, Crosby by Mollie Burch. It was started by 2 students after graduating from the University of Virginia. The store is known for its custom prints, vibrant colors and whimsical designs. You can find these at Crosby By Mollie Burch.)
However, if you prefer softer hues over bolder colors, you will also have a nice selection of styles in every pastel color imaginable.
Some of the pastel colors have been blended with others making for luscious looking styles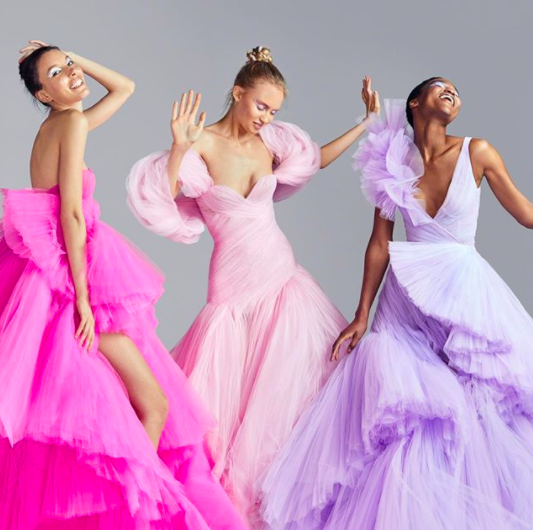 Never fear though, this summer is not just about color. Your "go to" blacks and whites remain quite popular. White is such a great summer color. It looks so fresh and clean. Most of us have lots of white, so you might even get away with not having to buy anything. Most of us tend to fall back on black, but if there was ever a summer to get creative, this would be it.
However, if you MUST have white, black, or a neutral don't be dismayed, there are lots of things for you too. White is such a great crisp and clean summer color, it's hard not to wear it. And alas, some of us, can't get away from black, but there is alway something for you as well. If either of these are you, don't forget to add a splash of color
Name a print, any print, and I bet it was on the runway for Summer 2020. Whether it be plaid, polka dot, floral, or boho, they were there along with other originals.
Even tie-dye is back in a BIG way.
Dolce and Gabbana used to be the premier designer to relish in the florals. This summer, however, it looks like many designers have gotten on board with these wonderful summer prints. Florals are so happy and heaven knows, we could all use a boost during these times.
With such a wide variety of colors, patterns, and fabrics, there is literally something for everyone this summer of 2020. As you venture out carefully in the next summer months, you have a lot of choice. Hopefully this article will give you some inspiration to go through your closet and get creative.
This article has been revised for this website as the original article was  published on The Code of Style.